All information is valid as of Oct.14 2010, prices are quoted in USD unless explicitly stated.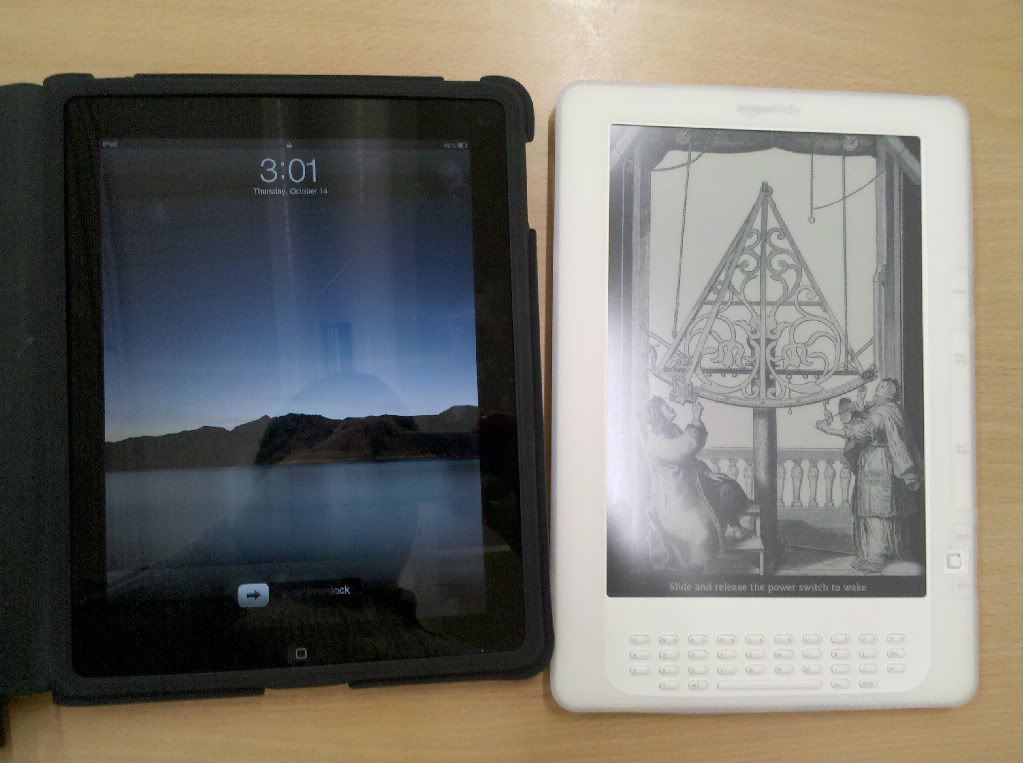 I am serious, and don't call me iPad
Finally it is here. I paid for my Kindle DX over a month ago and waited forever for it to arrive at my agent in the USA, and the trip from eastern US to Godzone only took 10 days.
Not many people own a e-reader here, less so for a Kindle DX. After my brief encounter with a half-crippled Kindle 2 earlier this year, I have always been tempted to get its bigger brother. Back then it costed over $500 and definitely out of my radar; now with many competitors out in the market, Amazon has quietly lowered their prices (often to comical effects, since for a number of days people were trying to sell used Kindles for more than new ones) and the DX is suddently a lot more affordable.
I was going to order the DX Graphite but decided against it in the last minute for several reasons:
Vodafone NZ signed with Amazon in August to provide 3G service for Kindle over their well-established WCDMA network. The current versions of Kindle DX relies on the CDMA2000 standard which does not exist locally, however given the highly modular design of the device it would not take them very long to release a WCDMA model for New Zealand. Although the Kiwi dollar is at a historic high point, $379 is still no small sum and I could have spent it on many other things I need than want.
The graphite edition boasts a superior display with 50% more contrast, however pricing policy suggests otherwise with the older generation only $20 less. A friend was kind enough to show me her latest acquisition and it made my mind: Black seems to be a tad richer compared to the Kindle 2, but I could not help but suspect that a lot of the visual improvements came from the black chassis, which has a better contrast with the white (actually gray) blanks. Clearly the new screen is nothing worth raving about nor is it worth the prenium price tag.
In the end the compormise was achieved on a
factory refurbished
Kindle DX, which is substantially more affordable at $289 (when I made the purchase, price has since dropped to $269) and carries the same warranty. It had to be shipped to a US address for sure, and thankfully the process was smooth except for the extended waiting period, which I could not understand until I had the package in my hands.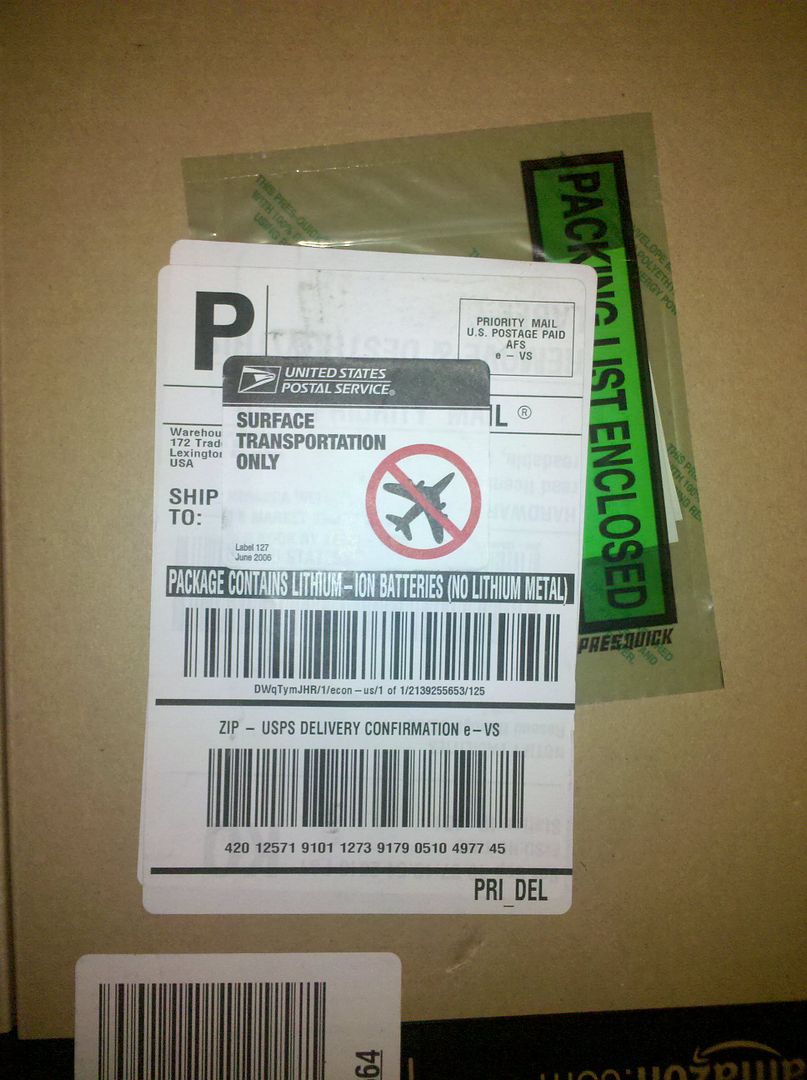 A bunch of wussies I must say. If Li-ion batteries are safe enough to be carried on a flight, I see no reason why they are unfit for freight.
The control buttons are only found on the right hand side, which is fine with me. Sorry to left handed people, your own option is to turn the device unside-down and the pages will automatically flip 180 degrees to resume reading.
To maximise the screen area, the keyboard has been pressed to a tiny row which results in a top-heavy configuration that wants to capsize as soon as you attempt to type with both hands.The keyboard is usable with some support, however not comfortable enough to type long notes or write emails. The smaller Kindles has bigger keys and are more balanced for typing. The 5-d joystick is also a little fiddly and I would prefer the flat d-pad on the latest Kindle 3.
Reading on Kindle DX
Ebooks:
The picture shows the smallest font size which is similar to your standard paperback books. Reading is pretty much similar to Kindle 2, except more words fit per screen and the "Next Page" button is going to be needed a lot less frequently. Screen refresh time is on par with the smaller kindles which is very impressive considering the screen is more than twice the size.
Project Gutenberg now publish most books in specific Kindle format, often complete with illustrations to make it more like reading a real book, although illustrations does work always fill the page as intended by the creators.
PDF:
PDF fits very well across the page and is rendered faithfully. Sometimes the words may appear a little faint so you will need good lighting to see better.
There is also a crude zoom and pan function which makes the inevitable finer print easier to read; however it is easier to turn the device 90 degrees and read in landscape. Unlike e-readers of other brands, PDF reflow is not yet supported and you are better off jotting down notes on a piece of paper.
Manga: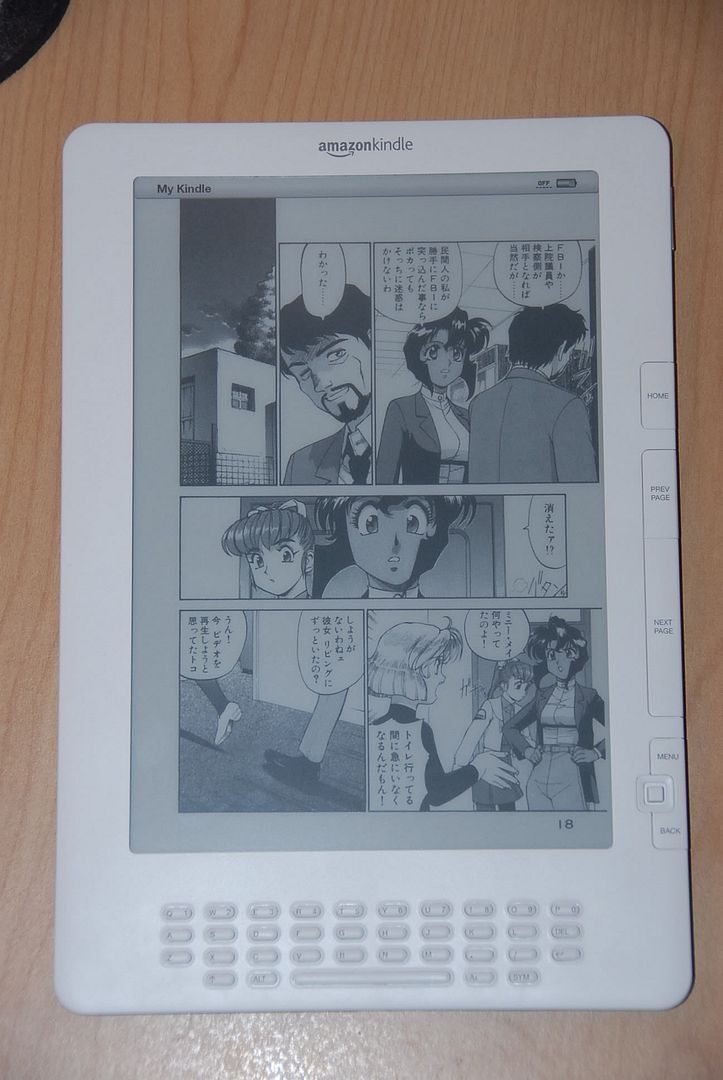 The screen has more an enough grayscale for manga or comic if you don't mind monochrome. I use
Mangle
to resize and convert image files to Kindle-friendly sizes. The major let down is the system, where it often takes several seconds to load the next page or images may simply turn up corrupted. Don't rely on it for your everyday manga reading, however it provides a decent variation to reading words.
Other Features
Most features I remembered from the Kindle 2 are still firmly in place, including the web browser and text-to-speech functionalities. A recent system update added the sorely needed function of organising books into "collections" so the days of browsing 50 pages of catalogue to find a page is a thing of the past. If you weren't fussy about warranty claims, there are plenty of documentation on various hacks and mods to do wonderful things with your kindle: Maybe you want to tether network over USB, run Busybox or even a full Linux distro? They are all possible.
Accessories
Like Kindle 2, Kindle DX is a minimalist device, all you need is a micro-B type USB cable to charge and access the device. Nevertheless, Amazon did issue a few pieces of accessories; there are also a vast range of offerings from other brands to choose from.
The official
Kindle 2 charger
, not withstanding its tiny size it has excellent specs (100-240V input, 4.9V 850mA output). The world has certainly moved on from the era of wall warts, and MacFags will be pleased to know that these chargers will handle Apple products quite nicely - once less charger to carry.
The
Amazon case
, unfortunately, is a different (and depressing) story. It has two metal hinges to secure the device and cause cracks (which often renders the screen useless) over time or instantly in case of blunt force damage. Avoid them, at least the older iterations with straight hinges, and get a third-party soft case instead, preferably with a reading light so you will be able to read when your loved ones are fast asleep. On the other hand, clip-on reading lights of any origin work pretty well with the kindle DX with its wide margins for attachment.
Because the refurbished items does not come with a charger, I picked up
VanGoddy's Kindle DX accessory package
which include a well made silicon sleeve(shown in a previous picture), car charger and wall charger with USB cable; good deal for $24.85.
As a generally messy person and wannabe scientist, I also bought Octovo's spandex
splash proof case
. It is a cumbersome affair and has a few problems such as the direction key fails to line up with the printed markers on the outside. But it is still a handy case for the purpose. The black colour also solves some of the contrast problems reading in bright light.
Many accessories are less useful, for example,
screen protector film
is a waste of time and defeats the purpose of having a readable screen under direct sunlight, and do you really need a
docking station
to keep your kindle upright while charging?
Verdict
Unlike its little brother, Kindle DX is a somewhat overpriced product that serves a more dedicated market, namely high-throughput readers and researchers who read a lot of articles in PDF format. it is not intended to be maximally portable and you probably won't fancy carrying it with you on a daily basis. If you read a lot of PDF files and/or find the generic e-readers too small for your needs, jump at it, other wise don't bother.
At this moment the
Kindle 3
, especially
the wifi-only version
remains the best deal in the e-reader market. With a little extra you can grab the 3G version for over-the-air delivery and free web access. If you weren't in a hurry, you can always wait for Amazon to release a new model that works in NZ.