According to what was told the movie Scent of a Woman, Lt.Col. Frank Slade played by Al Pacino served in Vietnam, have been on Lyndon Johnson's staff and almost got promoted a general. What does his
payslip
ribbons and badges say about his service?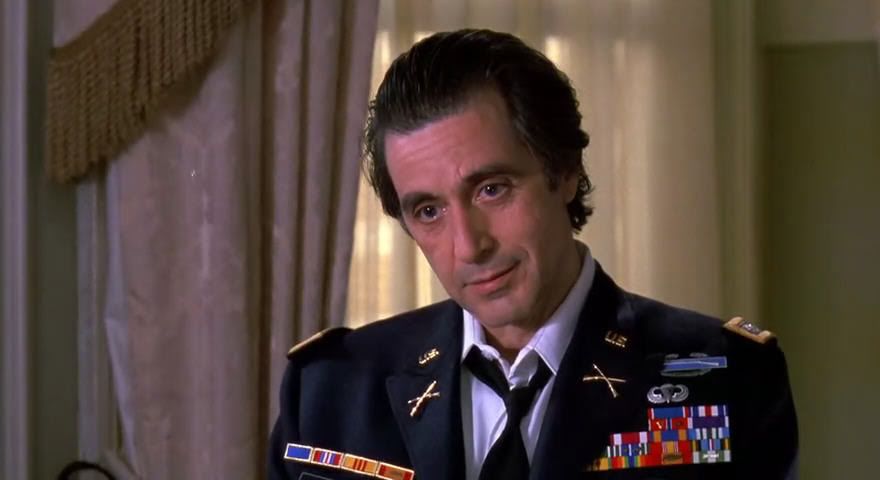 Should I shoot you or adopt you?
Left side contain four unit awards:
Presidential Unit Citation
: Awarded for exceptional in major operations, relatively common
Valorous Unit Award
: The lesser version of the previous.
Vietnam Presidential Unit Citation
: Slade could have served as one of the early US military advisers, however considering his age it is more likely to have come from a later date.
Vietnam Gallantry Cross Unit Citation with Palm
: Frequently issued to foreign combatants by RoVN so nothing special here, nearly everyone has got it.
Right side have both skill badges and individual decoration racks, starting from the top then top-left:
Combat Infantryman Badge
: Basic Group I skill badge, issued to every trooper with front line service
Basic Parachutist Badge
: a.k.a. Snow Cone, awarded following at least one combat parachute jump. Slade does not appear to have served in the airborne divisions, so it is most likely that he picked this up while in Fort Benning.
Distinguished Service Cross
: Highest army decoration just second to MoH. Awarded in excess of 1000 for action in Vietnam, out of those about 400 are posthumous.
Silver Star
: Third-placed US service medal, Slade must have done something right...twice. John McCain also has one.
Bronze Star
: Further down the hierarchy. Slade's however, bear both Valor device and oak leaves, which translate into multiple decorations for some exceptional deeds.
Purple Heart
: i.e. would medal. Probably one of the most abundant medals out there because the DoD minted 500,000 for the invasion of Japan which never happened, and they still have not used up that old supply. Officers carry spares into battle and use them to plug broken femoral arteries, well, jokes.
Meritorious Service Medal:
Awarded for exceptional non-combat duty.
Air Medal
: Awarded for frequent fliers in warzone, no, you don't have to pilot the aircraft yourself.
Joint Service Commendation
: Lesser version of the Bronze Star.
Army Achievement Medal
: Probably with oak leaves, can't see very clear. I need bluray :(
National Defense Service Medal
: Blanket campaign medal for the Nam, as well as Korea, Afganistan and Iraq.
Armed Forces Expeditionary Medal:
Supplementary campaign medal, probably for service elsewhere in Indo-China.
Vietnam Service Medal
: Mostly covered however quite identifiable, created by Lyndon Johnson for service in the Vietnam theater.
Army Service Ribbon:
For every member of the armed serviced in 1981 and thereafter. One of the uglier ribbons out there.
Vietnam Gallantry Cross with Palm:
This is not the unit award and bears more weight.
Vietnam Campaign Medal:
Universally awarded. The bar device read "1960", the year of the start of conflict. It is intended to issue a second bar when the North is defeated, however it never came.
Overall, we can see a typical route of ascension for a model soldier from the rice paddies to the war room. His personality destined him to the eventual downfall, however he could not have scored all that glory without it.
Let's watch him tango with an adorable Gabrielle Anwar again:
----------------------------------------------------------------------------------
I have mentioned before that sometimes luck is very important in an actor/actresses' success. Nicholas Cage is a prime example of someone repeatedly receiving flops. Anne Hathaway had her share of mistakes when she turned down the leading role of Christine in the Phantom movie due to her commitment to make Princess Dairies 2.
Al Pacino's luck is on par with Bruce Willis, they both had a down period however recovered quickly with one or two major hits. To prove the point that nobody is immune to occasional hiccups:
A young Sean Connery here, you probably wouldn't have guessed....
To make up for the shock, let's end the post with some pretty females with weapons
M4 with too many bling blings, used by a 5"2' shooter
She really knows how to aim
The End
is based on a real person, you will never know...
Only hippies and hypocrites don't love the
IDF